Our restaurant showcases typical Tuscan dishes with a modern twist, using locally
sourced produce. Inspired by cicchetti, Italy's answer to tapas, with an 'a la carte'
lunch menu using fresh seasonal vegetables from our organic market garden.
Served in a stylish dining area overlooking an atmospheric courtyard garden, the perfect place to lunch, dine or lounge with a
glass of wine or aperitvo.
We are thrilled to collaborate with renowned local chef Carlo Porcu who has created both the cicchetti and the super club menus.
Our Emporio shop adjoining the restaurant presents an array of local delicacies, from the typical Tuscan pecorino cheese,
homemade preserves, stone-milled pasta to hand picked artisanal gifts.
OUR MARKET GARDEN
Our gardeners work hand-in-hand with our chefs to create menus
bursting with fresh Italian flavours.
Our seasonal fruit, vegetables and Mediterranean herbs grown throughout the year are eaten fresh, conserved as
pickles and sauces and used in the creation of our delicious dishes. This area in Tuscany, known as the garden of
Italy, has nutrient rich soils and distinct seasons providing us with a vast range of zero km produce.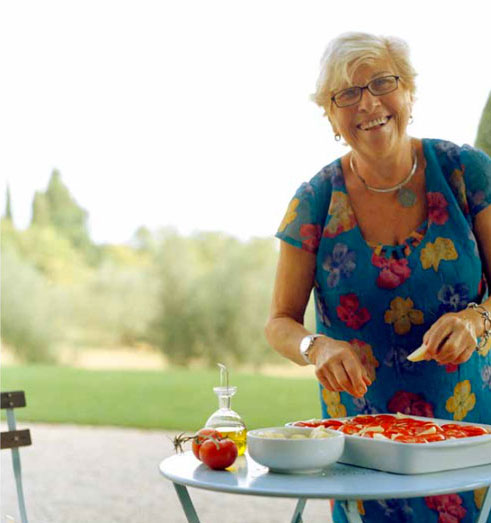 INES KASTELEC
The restaurants namesake is owner Paolo's
mother, a bona-fide Italian mamma from Padova.
Like all Italian mamas, she has derived so much pleasure from cooking for her family and friends. Having grown up in a restaurant with recipes handed down from generation to generation her passion for food was ignited. Always cooking from scratch with the freshest ingredients she has inspired us in the creation of Emporio di Ines.