RESTAURANT
The secret of tuscan food lies in it's local, and most importantly, seasonal ingredients.
Eating seasonally equates with eating fresh ingredients at their height of flavour. We offer different menus at different times of the day that follow this 'farm to plate' philosophy. We source locally everything we are unable to produce ourselves, knowing the provenance and being assured of the quality. Discover interesting wines from small suppliers as well as those famous in the region in our well stocked cellar.

With a log fire and comfy sofas, the contemporary styled bar is an idyllic dining spot in the cooler months and the shady courtyard is the perfect setting on summer days.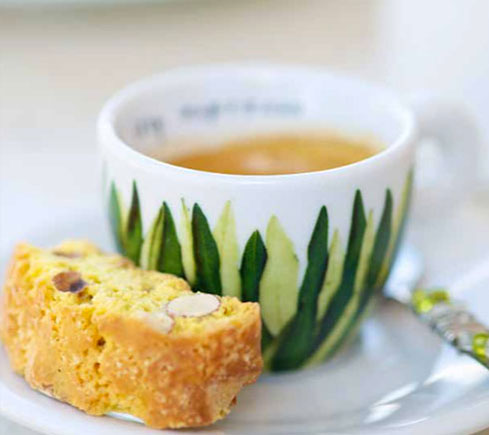 11.30 -15.30 only on Sunday
Serving coffee, freshly baked breads, pastries and our large selection of delicatessen products, a great way to start your day.
We offer a range of breakfasts from continental, with delicious local ham and cheese, a healthy option comprising seasonal fruit and home-made yogurt as well as classic egg dishes.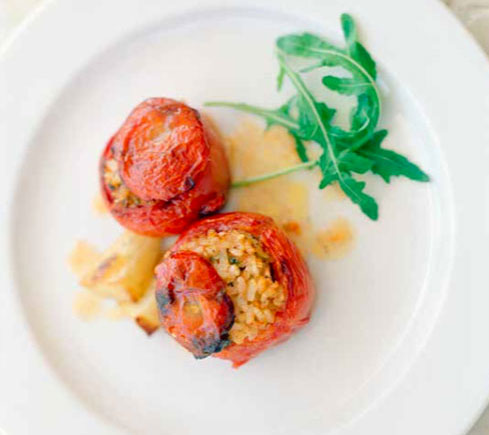 12.30 -14.30 Thurs to Tue
Inspired from what's ripe and ready in our market garden we offer a range of simple and delicious lunch dishes.
Serving freshly prepared modern and traditional Tuscan fare, straight from our delicatessen counter. Mix and match from homemade salads and charcuterie, washed down with a glass of wine from one the many exceptional surrounding vineyards. Inside or out in the fragrant gardens, you will find the ultimate spot for a long lunch with sublime Italian food and a perfect congenial atmosphere.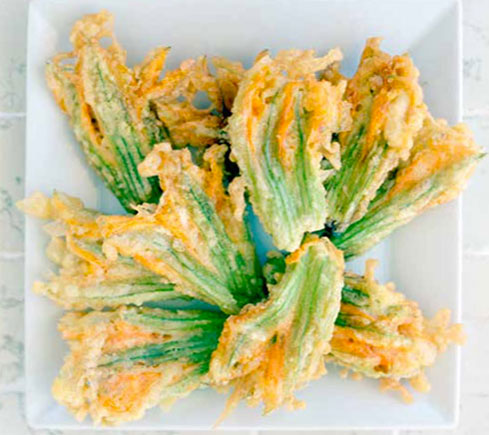 19.00- 22.00 Thurs to Tue
Our Cicchetti menu offer guests the option of selecting as many dishes as they wish, sharing plates and picking and choosing flavours as they go.
Our inspiration was to create smaller dishes, 'Cicchetti' (Italy's answer to Tapas) using seasonal produce from our organic kitchen garden such as lightly battered zucchini flowers, eggplant pargmgiana or a simple caprese salad with freshly picked tomatoes from the vine all served in a stylish contemporary setting opening out onto a stunning lounge garden the perfect place to dine or relax with a glass of wine or aperitvo.
SUPPER CLUBS
Seaonal dinner parties with Carlo Porcu
We are collaborating with renowned local chef Carlo Porcu who has designed not only our cicchetti menu but will
also be hosting exclusive supper club dinner parties firmly rooted in the farm to table philosophy and the cuisine with
which he grew up.
SUPPER CLUB DATES ANNOUNCED MONTHLY
19.30 - 22.30 BI-WEEKLY
Each menu will be specially crafted for every dinner party, depending on seasonal inspiration, with our sommelier paring
complimentary local wines from our cellar. Carlo's passion, combined with his knowledge of the wide variety of local ingredients
and international influence, allows him to surprise and delight guests with a truly gastronomical adventure.
SIGN UP FOR EMAIL ALERTS FOR NEW SUPPER CLUB DATES
---